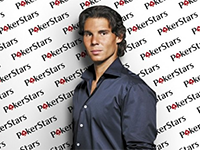 While poker has a bad reputation for many people in the United States, there is no doubt that it can do a lot of good. Poker can be a great special tool, giving people the chance to spend time with others and to meet folk of a similar nature. There is also the fact that all around the world, there are numerous poker events and tournaments being played to raise money for charitable causes. In these tough economic times, people are struggling but many charities re struggling as well. This is why big poker events which create awareness and raise funds for charitable events are well worth looking out for.
There may not be many options for online poker United States players to support local or major charities, but there should be more in years to come. The importance and popularity of these events can be seen with the recent success had by Spanish tennis star Rafael Nadal.
Nadal was taking part in the EPT Charity Challenge, which was held in Prague in Europe and he managed to win the tournament! This meant that he won a grand total of €50,000 for charity, which is always a big feat. With respect to the poker element, Rafa may take more pleasure in beating a line-up that included Daniel Negreanu. A stellar line-up is always going to be good for charities but it seemed that poker was the winner with a number of top players on the bill at the event.
While Rafa Nadal will rightly get the plaudits and praise for winning the tournament, he wasn't the only sports star to get involved. 2014 may be a world cup year, but a few former football stars who knew a thing or two about success got involved with the tournament. Brazilian legend Ronaldo, not the current Ronaldo scoring foals for fun for Real Madrid, also played in the tournament and he managed to finish in fifth place. This is a highly respectable finish and he managed to win €5,000 for his chosen charity. Former Ukrainian and European legend Andriy Shevchenko was also part of the event.
Rafael Nadal is a winner in most things he does in life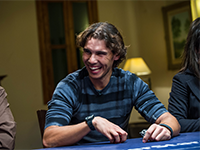 In an interview after his win, Nadal said; "I had fun. I had a great experience here playing with friends, playing for a good cause, for charity. The next thing I know is that tomorrow morning I will be on court at 9am practising tennis." Understandably, Nadal was asked how poker compared to tennis, and he said; "Well, it's different.  We are playing for a good cause and that always makes an event special. But obviously the pressure, in my case, is completely different between when I'm playing in a professional tennis tournament and what I'm playing today. For me, it's a big honour to be playing with all these stars around me. I want to be competitive. It's my first live poker tournament and that's made me feel a little bit nervous."
He may have been nervous but winning the tournament shows that he has the skills to help go a long way. Rafa (follow him on Twitter) will be hoping that he has plenty of years left in his tennis career but when that is finished and he still craves an environment where he can use his skills in front of a watching crowd, you may find that he turns his attention to poker in a more serious nature. There were concerns when Nadal was being utilised by PokerStars that it was his name they were more interested in but it definitely seems as though there is a big poker player in the Spaniard!