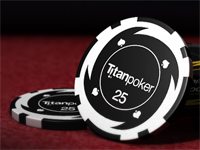 As you might have read on the homepage, I am a poker enthusiast. The first room I have played online poker at was Titan Poker, and I am still playing there several times a week.
I started this website to generate some extra money for playing poker. Although I have managed to get up to a $2/$4 level already, my dream is to move up quicker to, say $5/$10 – where the real money is.
What I can do, you should be able to do so as well. If you are interested in creating your own poker site, I suggest you read my articles about "How to become an affiliate". If you are still interested after you have read my articles, then you can sign up at an affiliate program such as EuroPartners.com or Poker Affiliate World. If you do this following a link on my site, you will become my sub-affiliate and I will be very pleased to help you out to get started and give you some valuable advice later on.
Anyway, most of my site is focused on Titan Poker, and some of it is about my own poker experiences. I share some of the best poker strategies that have helped me to become a better, winning poker player, as well.
If you like to contact me, for whatever reason it may be, please send an e-mail to info [at] balkanpokerclub [dot] com (remove the spaces and the brackets). If you have a cool poker related website, which could be interesting for other readers of my site, you can send me an e-mail as well. Maybe we can exchange links 🙂
George