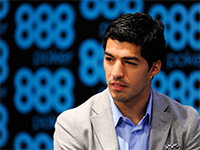 When it comes to promoting online poker sites, many companies are going down the route of having a poker ambassador. This is a big name person, someone with a profile and it is quite common for them to be a sporting star. This makes sense as there is a good deal of crossover between the sports and poker so a site can boost their profile a great deal by getting the right person in.
Sometimes, especially with poker, it helps having someone with a bit of edge. It is not as if poker is illegal or unwholesome but there is definitely something about poker that stands it apart from plenty if other activities. This is why plenty of poker sites are interested in having an ambassador who has an edge to them and when it comes to characters, there are few bigger or more controversial than Luis Suárez.
What does the future hold for Suárez?
888 Poker, the site that is deemed to be the second biggest poker site in the world, has signed up Luis Suárez as their global ambassador. Real Madrid are allegedly hot on the heels of the Liverpool FC striker but it seems as though the poker site has beat them to the punch. With the Uruguayan striker heading to the World Cup, and then maybe Spain before the start of the new season, this could be the ideal time to strike this deal with Suárez. He could be in line for a lot of exposure and this means that the 888 Poker site may be lining up for some very welcome exposure from this deal.
Whether he stays with Liverpool or heads to Madrid, you can be that Suárez will not be short of money, even if he does need cash to shell out on fines. He is clearly the sort of person that has enough cash to enjoy real money online poker but now that he holds an ambassador role for 888 Poker, he won't have to. The Liverpool fanbase has emphatically got behind Suárez, so you can expect them to take an interest in this but Suárez is a player that many other fans dislike so this may not be the brilliant success with football fans that 888 Poker are hoping for. The site is aiming for success with the player at the world cup and he will be a keen contributor to the site developing their presence in areas like America and South America.
There are definitely less controversial players that 888 Poker could have signed up but there is no denying that Luis Suárez is an excellent footballer.