Before I start, let me make clear that this is my personal review, and I may be somewhat biased as Titan Poker was the first online poker room I have ever played at. Still, I will try to be as critical as I can and point out the cons as much as I can. I have done quite some research to put a well written and honest review together. Hope it helps you out whether you're going to like Titan Poker or not.
Summary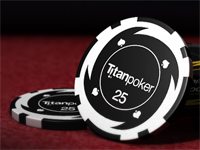 Titan Poker came to life in 2004 and was initially named Club Dice Poker, hence where the name CD comes from 🙂 Before Titan Poker migrated into the William Hill portfolio, they were owned by Crown Solutions Ltd. and had an official gaming license in Antigua. Nowadays, William Hill Gaming Ltd. has a gaming license from the government of Gibraltar, which by the way is one of the United Kingdom white listed jurisdictions, but they mainly operate from Israel and have outsourced their support department to different countries, such as Bulgaria and the Philippines.
Titan Poker has been part of the iPoker Network since the beginning. It has seen the evolution of iPoker from a mere online poker network to the third biggest poker provider in the world. In fact, iPoker is the world's largest poker network as both leading poker rooms, PokerStars and Full Tilt Poker, are independently operating poker rooms. The iPoker network basically consists of a bunch of poker sites operating on the same poker network. If you play on Titan Poker, you might as well play against poker players using another skin, such as Bet365 Poker for instance. Please have a look at my article about the iPoker Network for more information about the network. Because of its size, you can find all kinds of games at Titan Poker: Cash Games, Sit and Gos and Multi Table Tournaments offered in all kind of levels. The most popular game on Titan Poker is (you guessed it right) Texas Hold'em.
I can personally recommend Titan Poker and I will point out why in the reminder of this Titan Poker review.
Titan Poker Software
The developer of Titan Poker's software, or better yet, the software used by online poker rooms on the iPoker Network, is Playtech Ltd. This company, listed on the London Stock Exchange since 2006, is a leading online gaming software development and develops casino and bingo products for the Internet besides just online poker. Playtech Ltd. is operating since 1999 and were initially established to serve brick and mortar casinos and multi-media industries. Playtech's first product was Swiss Casino.
The iPoker Network, currently the company's flagship, was introduced in 2004 and earned the official Certificate of Evaluation from BMM International. So after all the official bla-bla, now the part that really matters. For the convenience I will speak about Titan Poker from now, instead of iPoker or Playtech.
Titan Poker's software is really a first class product. Over the years that I have used it, there have been numerous of changes (improvements) to the software. The user friendly interface includes all industry standard features, such as action buttons, re-sizeable tables, multiple tables (up to 6), as well as graphical hand histories, statistics, notes, buddies, filters, four coloured decks, etc. etc. Simply said, there's nothing missing that you can find in any other respectable online poker rooms… oh well, I would love a personal hole cards viewer. <- LOL, that is just a joke! Disclaimer: Titan Poker is certainly not rigged. In fact, the online gaming industry is one of the most controlled industries in the world.
Titan Poker Games
For one, Titan Poker is great for playing Sit and Gos. There are so many to choose from, but I would say that the Jackpot Sit and Gos are most definitely the most interesting. I once managed to end first or second five times in a row in the Rio Jackpot, and managed to pull away a bonus of $300 – next to the prize money of course. At the time I won that prize, I couldn't be happier and wouldn't think of ever growing to be the poker player I am nowadays. Anyway, the Jackpot SNGs come in different variations, starting with buy-ins low as $2+$0.40 (Dirty Dozen) up to $50+$9 (Fort Knox).
If you like cash games, like I do, you should be able to find action around the clock. Watch out late at nights, as there will be many sharks luring for your money. Cash games come in all types, Limit, Pot-Limit and No-Limit. Full Ring, Short Handed, Heads-Up… it's all there. Action is available about everywhere, from $30/$60 L HE, $25/$50 NL HE and down to lower limits. There is some occasional action in the super high limits ($100/$200), but if you are big as that I would pick Full Tilt Poker over CD 🙂 Pot-Limit is not very popular, hardly any action there ever, besides PLO of course, but more on that later on. Oh well, why not write about PLO right away.
For those of you who don't know what I mean… I am not talking about that Palestinian Organization, but about Pot-Limit Omaha. Tons of PLO players are active at the $25/$50 tables, and if you care to play Heads-Up PLO, then one level higher should find you an opponent as there are usually some players waiting for action. Of course, the lower limits PLO tables have plenty of action!
Omaha Hi-Lo is also available, and has some traffic as well. Other variations of Omaha seem more dead than alive – but then again, I am not checking traffic all times of the day, as I only play Omaha very occasional – when I am really bored playing Texas Hold'em <- I actually meant to say "when I am in one of those annoying down swings" 😉 While we're still on the subject, it's worth mentioning the $8,000 Guaranteed Monday Night Omaha Tournament. This tourney runs every Monday night at 20:00 GMT and has a buy-in of $100+$9. Oh, it's 6 players per table.
Then there are guaranteed tournaments, freerolls and satellites. If you like it big, then I suggest you'll spend some serious money and buy yourself into the Monthly $1,000,000 Tournament for $500+$35. If you are not that big – don't feel ashamed – you can play in one of the many satellites for the Monthly Millions Tournament. The smallest of you guys should first concentrate (and practice, in fact practice some more) playing the Titan Poker freerolls and low limit games. Here are the four most interesting guaranteed tournaments:
Name: $250,000 GP Freezeout
Buy-in: $300+$20
Date: Sundays 18:00 GMT
Name: $150,000 Guaranteed
Buy-in: $75+$7.50
Date: Fridays 19:00 GMT
Name: $50,000 GP Freezeout
Buy-in: $100+$9
Date: Saturdays 18:30 GMT
Name: Daily $50,000 GP
Buy-in: $50+$5 R/A
Date: Monday – Thursday at 18:45
Most of the time there are satellite to land based poker events such as the WSOP, EPT and many others. There's always something scheduled that might be interesting for you, if your goal is to play in one of the major tourneys sometime. In each case it's good to know that, if you have some knowledge about Texas Hold'em strategy, you will be a step ahead of the majority of tournament players at Titan Poker.
Titan Poker/iPoker Network Traffic
When I started playing online poker at Titan Poker back in the days, I was happy to see 10,000 players on the network. Honestly, I didn't even know that I was playing against poker players on other iPoker skins, such as Titan Poker for instance. I simply thought all these players were playing at Titan Poker 😀 Anyway, things have changed drastically these days, as the iPoker Network has grown to be the largest poker network in the world. Other networks as Ongame are close, but by the looks of it, iPoker keeps growing a tad faster. For example, the latest addition to the network is Everest Poker, a poker room which used to be one of the bigger online poker rooms on their own network.
So, good news for Titan Poker players, as the player amounts are rising, so will the fish. If you want to know the exact amount of players currently logged in, I suggest you pay a visit to Poker Scout, a website that keeps track of traffic from online poker rooms and poker networks.
Titan Poker Fair Gaming
To come up with a decent and correct piece of content about Titan Poker's fair gaming policy, I have been digging around for information on their own website, as well as on several other poker room related websites that I frequently visit.
I have also used Google to search for stories from people that felt mistreated by Titan Poker. I haven't found anything that worries me, besides the usual complaining from players that suck at playing poker and accuse the poker rooms of being rigged. This is a phenomenon that every online poker room has to deal with – as there aren't many players that consistently know to beat the game, you know!
Another site I usually visit when trying to find information related to online poker is Two Plus Two. This community actually discovered the rogue employee (potripper) at AP and UB last year, who manipulated the software so he could see the whole cards of other players. It's also this community of poker players that makes me feel comfortable playing at a certain site or not. As soon as odd things happen, they will show up in the stats saved by the better players using statistical programs such as Poker Tracker. Odd things simply stand out in the millions of hands these players share amongst each other. Trust me when I say: "The more you practice playing poker, the less rigged it will get!"
Anyhow, back to the subject about Titan Poker's security and integrity. I have never heard anything strange about Titan Poker myself, and haven't found anything strange online as well. That's good news! Furthermore I can tell you that Titan Poker, or better said iPoker (remember they use iPoker's software), uses the latest encryption technologies to protect all personal data. All data from the client to the server and back is encrypted with the same technology (Turbo SSL Certificate) as Internet banking is.
One thing you'll never know for sure is when players are colluding against you. Titan Poker claims to have implemented anti-fraud algorithms which should be able to detect players when playing together, but don't ask me how it actually works 🙂 No matter what poker room you play at, use your common sense and move away from a specific table if you have a bad feeling about two or more players you're up against. Oh… Make sure you don't forget to report them, as these folks are the rotten apples of online poker!!!
The last thing, but not least that is related to fair gaming is the random number generator (RNG). This advanced piece of software is build to determine the outcome of the cards being dealt. (<- Sounds more difficult than it actually is!) The RNG Titan Poker uses is tested by leading international accounting and auditing firms, such as PricewaterhouseCoopers and Gaming Labs (before known as Technical Systems Testing). These independent companies periodically examine the accuracy of the random number generator by running millions of games and analyse the outcomes compared to mathematical statistics for poker. Additionally they test the monthly average payout percentage, to ensure ongoing randomness and fairness.
More coming up soon!