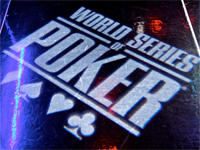 The World Series of Poker, (WSOP) is unarguably the most well known poker tournament in the world. Players from across the world qualify for cheap on poker sites and travel to Las Vegas to participate in this event seeking to claim the coveted WSOP bracelet as their own, not to mention the multi-million dollar grand prize. But the WSOP isn't about the money… well… ok yes it is. Who doesn't want to win seven figures for playing poker? However, professional poker players can do that on high stakes poker tables filled with rich flounders just as easily. For the pros, the WSOP is about being the best in the world, winning the bracelet. Every poker player dreams of owning the WSOP championship bracelet, and making your way through the thousands of entrants who register to play in the World Series every year is no easy task. The winner of this tournament truly deserves the title of World Champion.
The WSOP was born in 1970 when the owner of the Horseshoe Casino in Las Vegas, Benny Binion invited seven of the best known poker players to showdown at his casino to decide once and for all who was the best. The seven players were the famous Doyle Brunson, Carl Cannon, Puggy Pearson, Johnny Moss, Crandell Addington, Sailor Roberts, and "Amarillo Slim" Preston. The tournament was set to take place for a specific period of time, after which the players would vote by secret ballot for who among them was the best. Each player was asked to cast two votes, the first vote being for the best player at the table, the next for the second best. As the story goes, each player voted for himself in the first vote, and Johnny Moss was voted as second best. Johnny Moss was declared the winner of the tournament, awarded a silver cup trophy, and became the first World Series of Poker champion. It wasn't until 1976 that the WSOP bracelet was introduced as the trophy for winning the tournament, and has since become the most coveted prize in the world of poker.
These days the WSOP consists of almost 60 events, and each a different variation of poker, and each awarding a bracelet to the winner. Numerous of online poker sites run WSOP satellites between the months of  January and July, when the prestigious main event begins, still (and likely always will be) the cut throat, heavy swinging game of No Limit Texas Hold-em, widely considered the ultimate poker game in the world of poker. The winner of this event is crowned the World Champion of poker.