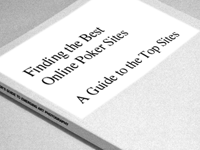 Finding the best online poker sites can be tricky. After all, it seems like every major site has endorsements from players or reviewers, and there are so many different things to think about– number of players, incentives, graphics quality– who would even know where to begin looking? Here we have the rundown of three of the best online poker sites, with highlights of their major strengths and weaknesses.
Absolute Poker wasn't a serious player in the online poker scene until it merged with UltimateBet Poker, creating a much larger network with enough funding to build a strong, sustainable site. Absolute Poker supports Mac, Linux, and Windows, and they accept US players. Their graphics are excellent, they have strong showings at Texas Hold'em, especially the short-handed tables, their tournament system is incredibly well-designed, and they allow cash transfers between players. However, they don't have live support, and there aren't always a lot of players on during non-peak hours.
Party Poker, one of the largest and most popular sites of it's kind, has often been heralded as one of the best online poker sites. It has held the number one place in number of players for most of the 2000s, until it was forced out of the American market by the introduction of the Unlawful Internet Gambling Enforcement Act (UIGEA) in 2006. The browser version is available on all operating systems, but the download is Windows-only, but the software is unfortunately sometimes a little buggy. Party poker has many venues for support 24/7, so even if you encounter problems, they're sure to be solved quickly. There is a consistently large number of players online at any time, and they offer games in several different languages, at least six million dollars in tournaments every month, and one of the best systems of statistical analysis of poker hands currently in play.
Full Tilt Poker has been gaining some extra attention lately, and not only because of its hefty list of professionals that they sponsor, which includes names like Chris Ferguson, Phil Ivey, and Allen Cunningham. Full Tilt Poker constantly strives to be one of the best online poker sites by offering large amounts of award money (eight million each week), catering to US players, and developing the "Rush poker" game, where you're whisked away to a new table every time you fold, saving you the time and trouble of seeing how a game plays out when you no longer have a stake in it. Full Tilt Poker has an extensive loyalty program that allows users to rack up points by playing in games and then spend them either to enter tournaments for free or in the online store, which offers a wide range of Full Tilt merchandise.
Absolute Poker, Party Poker, and Full Tilt Poker are only three of the many poker sites online. While they are some of the best online poker sites, there are still many other options to choose from, so take some time and do a little research, and you can find the best one for you.